Exploring the LifePod XR Editions
Standard, Range, and Special
The LifePod XR has made a grand entrance into the world of secure storage solutions. This innovative polymer locking case offers a new size that accommodates a range of exciting options for those seeking a reliable, compact, and modular storage solution. In this article, we'll delve into the interior of each LifePod XR Edition: the Standard, the Range, and the Special Edition, exploring the unique features that make each one a standout choice.
Ultimate Personal Security Solution
XR Standard Edition
Your Customizable Companion
The Standard Edition of the LifePod XR boasts a spacious interior that can be tailored to your specific needs. The main storage areas include a fully customizable padded divider system at the bottom and a convenient lid organizer at the top. The padded divider system is a flexible space with dividers that you can adjust to create the perfect layout for your gear. It also comes with elastic Velcro straps to keep items securely in place. The bottom of the Standard Edition is particularly well-suited for storing technical equipment, making it perfect for cameras, computer gear, or other fragile items. However, this versatile interior can also accommodate pistols. For example pistols can be stored flat in the lower part of the case, securely fastened with the included Velcro straps and padded dividers. The lid organizer is an ideal space for storing smaller accessories such as batteries, charging cables, or tripod plates. The LifePod XR Standard Edition truly offers a flexible and customizable storage solution for a variety of applications.
XR Range Edition
Tailored for Firearm Enthusiasts
The LifePod XR Range Edition is designed with firearm enthusiasts in mind, offering multiple ways to store your gear securely. This edition includes three pistol modules at the bottom, making it ideal for those who need to transport multiple pistols. It also features a magazine module, which is perfect for organizing and securing your magazines.
The lid organizer in the Range Edition can be used to store gloves, multi-tools, and other small range accessories. It even includes a convenient zip pouch for carrying items such as cleaning supplies to the range. The combination of the lower pistol modules and the upper lid organizer creates a versatile and efficient storage solution for firearm enthusiasts. However, it's important to pack the lid organizer appropriately to ensure that the case can be securely closed and latched when full-size pistols are stored in the modules.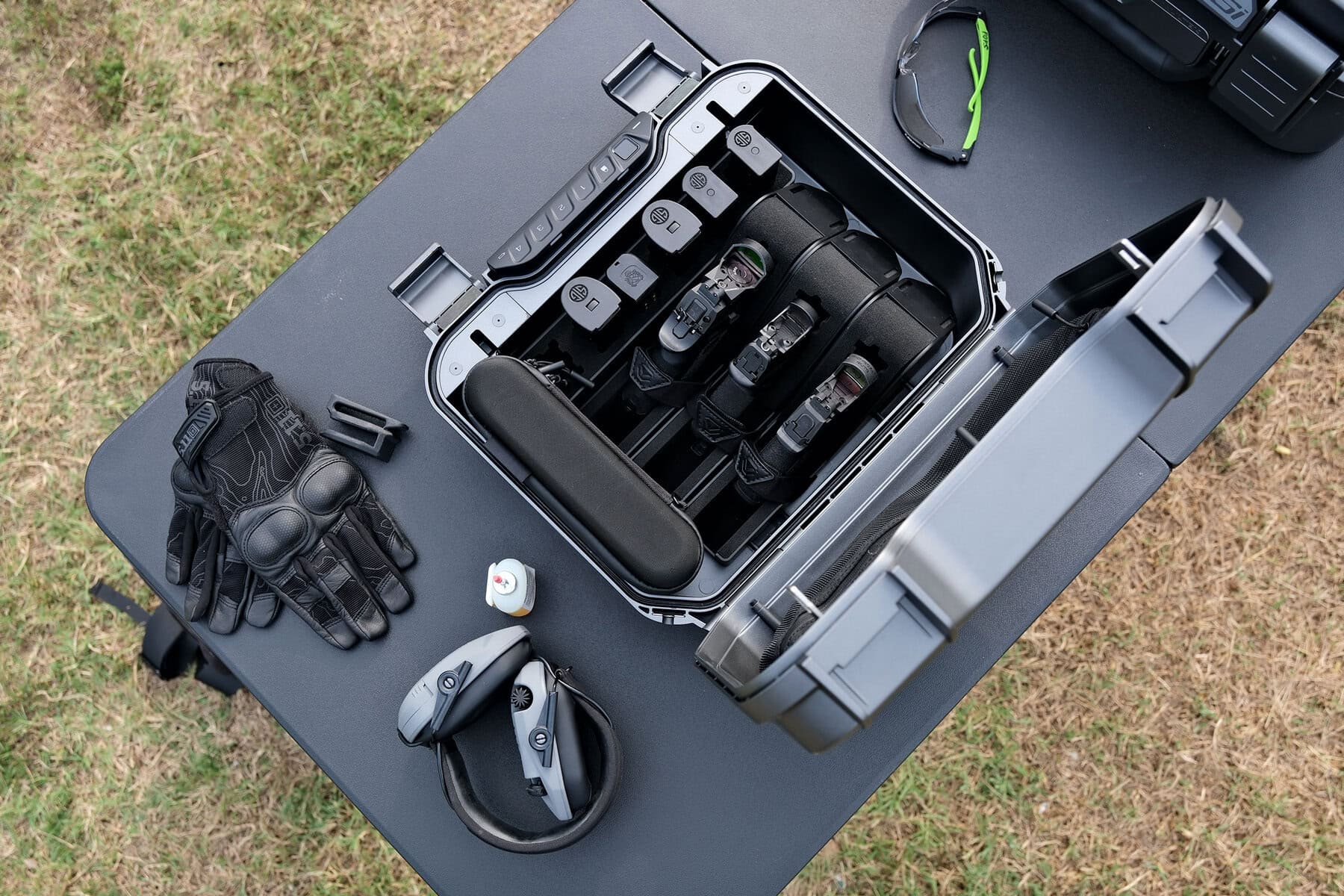 XR Special Edition
Ultimate Storage Flexibility
The LifePod XR Special Edition takes storage flexibility to a whole new level. It offers a wide range of storage options, making it perfect for a variety of applications. This edition includes a LifePod zip case, an upper padded divider system, an EDC (Everyday Carry) tray, a lower padded divider system, and a lid organizer.
The upper, padded divider system is the perfect size to accommodate sub-compact pistols and comes with adjustable dividers for customization. The LifePod zip case in the upper storage compartment is perfect for storing technical equipment like action cameras, SD cards, or flash drives.
The EDC tray on top provides an innovative way to secure tools, or you can even weave Molly webbing through its slots to add your own pouches. This tray can be used to organize a myriad of contents depending on your needs.
At the bottom, you'll find the lower padded divider system, which can securely hold and protect full-size pistols using the padded dividers and Velcro straps. If the entire bottom padded divider system is removed, the pistol and magazine modules, which can be purchased separately, snap easily into the designated grooves.
Of course, the lid organizer provides additional space for storing medical accessories, camera gear, or any items that complement your gear stored inside the LifePod XR Special Edition. This edition offers ultimate flexibility and adaptability, making it suitable for a wide range of users.
Conclusion
LifePod XR – A Modular Marvel for All Your Needs
The LifePod XR Editions – Standard, Range, and Special – offer modular, secure, and customizable storage solutions for a wide range of applications. Whether you're transporting firearms, camera gear, technical equipment, or even medical supplies, the LifePod XR has an edition that caters to your specific needs. Its compact and rugged design ensures that your gear stays protected, secure, and ready for action. Explore the options, choose the one that suits you best, and experience the convenience of LifePod XR storage on your adventures.
Shop the LifePod XR Lineup