A Year in Vaultek
We accomplished some amazing things at Vaultek in the past year, and we are excited for what is to come for 2022!
We launched RS800i part of RS Series. Our largest rifle safe capable of storing 8 rifles plus handguns in a compact quick access rugged WiFi enabled safe. On top of that we released some other innovative products throughout 2021 including Nano Key Biometric. Nano Key Biometric is the fastest entry point available with remote access to your safe with a scan of a fingerprint. Capable of storing 20 fingerprints makes this the fastest and most secure entry point on the market. We also released the first ever weather resistant lockbox with a biometric scanner. View some of the major launches below.
Our Most Versatile Product Now Larger
New in 2021: LifePod 2.0 Biometric
More Refined, Full Size Capability, + Upgraded Storage.
Building on the successful LifePod platform, LifePod 2.0 can store a full-size handgun up to 9.25" long, features a removable interior tray for stackable storage, and a convenient interior LED light.
Removable Interior Tray provides an extra layer of storage and features a series of slots for attaching belongings and EDC gear. Built-in lock system incorporates Vaultek's precision engineered safe technology and anti-impact latch design. LifePod 2.0 can be locked and unlocked using the touch sensitive LED keypad and the front manual keyway can be disabled to prevent lock picking. Designed to Perform. Advanced non-metal polymer construction is engineered to be lightweight with superior strength and drop tested to be the ultimate rugged lockbox. Side compression latches and inner rubber gasket seal off the interior from environmental factors.
The World's First Ever Biometric Waterproof Firearm Case.
The world's first biometric weatherproof firearm case from Vaultek. Advanced tech boasts a built-in biometric scanner and Smart Sense™ digital keypad – all wrapped in a rugged, all weather, high impact T3™ polymer housing. THIS IS DEFENSE ON LOCK.™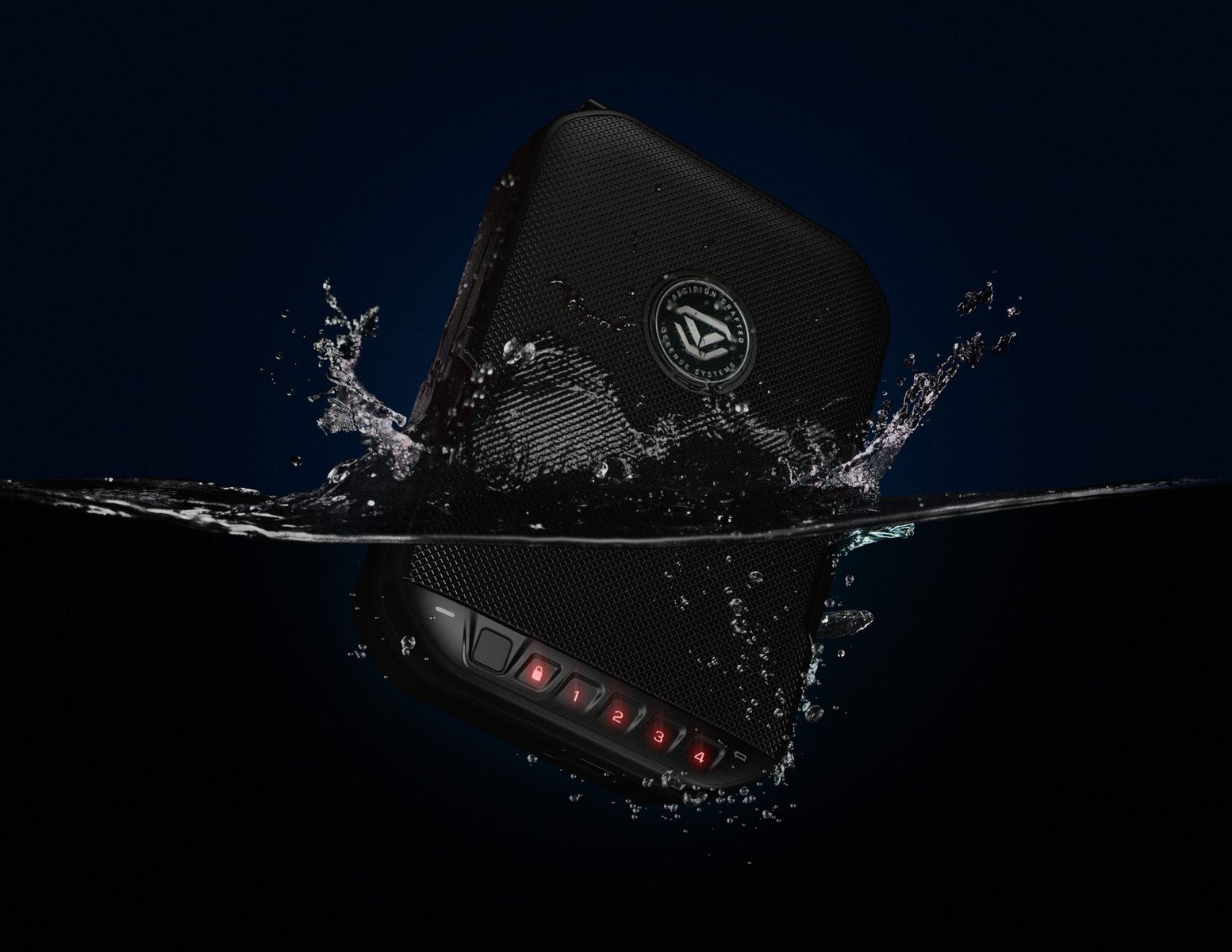 Quick Access Modular Rifle Safe
New in 2021: RS800i part of RS Series
Largest Safe, Compact Design, + Eight Rifle Capacity.
Introducing RS800i part of RS Series. Increased depth can store up to (8) rifles. Multiple full size handguns can store in an upright position with the included popular Twin Pistol Rack accessory. Tough and rugged 14-gauge carbon steel construction using Vaultek's exclusive metal forming technique features a durable finish to prevent corrosion and ensure long lasting protection.
Advanced anti-theft protection features include (4) solid steel locking bolts, anti-pry bars, ruggedized interior hinges, and Impact Detection for the ultimate prevention against break-ins. Quick secure access to your firearms, valuables, and documents from the high resolution fingerprint scanner, auto-illuminating keypad with built-in proximity sensor, manual keys, and Nano Key. WiFi connectivity uses the Vaultek Wi-Fi smartphone app and exclusive online dashboard for the most advanced safe management tools available. Receive instant alerts for critical safe activity from anywhere. View battery status, adjust the brightness of the interior light, check history log, and much more.
A quick access rifle with a small footprint perfect for your bedroom, closet, and other small spaces.
New in 2021: Nano Key Biometric
Fastest Entry Point Available now with a Biometric Scanner + Rechargeable.
Open your Vaultek compatible safe with one simple touch with
Nano Key Biometric
. Immediate, Secure, Biometric access using Vaultek's newest high resolution fingerprint scanner. 20 foot range (varies per model) creates a safe, designated access point to open the safe when nearby or walking up to the safe. Mount anywhere with the included mounting bracket with 3M mounting tape. Install in the home, office, and vehicles. Rechargeable battery lasts for a few months on a single charge, and features a low battery reminder to plug in when needed. Charging cable is included.
New in 2021: 20 Series – Compact Safe Reimagined
New Bluetooth 2.0 + Nano Key 2.0 Compatible.
Tough and rugged quick access smart safe with auto-open lid and rechargeable lithium-ion power. Smart safe management with the brand new Bluetooth 2.0 app. The new 20 Series is now compatible with the fastest entry point available – Nano Key 2.0.
Can securely hold 1 handgun, magazine(s), passport, cash, and is easily mountable or tether to a nightstand, desk, or vehicle using the included hardware. Easily portable to travel in your car, the office, or backpacks and luggage. The all new Bluetooth 2.0 App, re-designed from the ground up for a better experience. Quick secure access to your valuables, documents, and compact firearm from the high resolution fingerprint scanner, auto-illuminating keypad with built-in proximity sensor, manual keys, or smartphone with the Bluetooth 2.0 app. Compatible with Nano Key 2.0 sold separately.
New in 2021: Humidor Series
Spanish Cedar Cigar Tray, Multiple Sizes + Options.
Secure, smart, and impeccably finished inside and out, the modern smart humidor. Introducing the Vaultek LifePod Humidor— the portable Bluetooth humidor designed for the true cigar or herbal enthusiast. It's built using the successful LifePod platform, integrating Vaultek's precision engineered safe technology and anti-impact latch design, airtight, dust proof, and water resistant case.
The brilliant exterior is hand finished with rustic, clear-coated, brass-painted housings, and features a built-in lock with a unique backlit LED capacitive keypad for added security when needed.
The interior is trimmed in Spanish cedar wood and two-tone genuine leather for a luxurious sensory experience every time you open it. Secure cigars in the Spanish cedar tray with genuine leather strap. Interior pockets provide storage options for a lighter, cutter, along with even a mesh pocket for Boveda humidity packs (sold separately) to dial in a specific humidity level.
Optional Bluetooth Humidor App.
The addition of Bluetooth enabled Humidors allows you to connect the LifePod Humidor directly to your device so you can monitor the interior humidity and temperature levels via the exclusive smartphone app. With the intelligent Vaultek app, you can select from predefined custom environments or fine tune your own settings, and the LifePod will sound an audible alarm when there is unwanted changes, or it's time to change the humidity control pack.
New in 2021: Barikade Series
Smart Sense™ Keypad, Biometric Optional + Two Sizes.
Introducing Vaultek's newest lineup of precision built safes. The Barikade Series focuses on ease of use and practical security, providing customers with everyday value and a name they can trust.
Rugged steel construction is tough as nails and features powerful anti-pry construction, dual interior hinges, and an anti-impact latch to keep all your valuables protected. Secure your safe with pre-drilled mounting holes and included hardware or use the included security cable to tether the safe around a secure object.
Designed to safely protect valuables and provide secure access. Secure entry is made available through the backlit Smart Sense™ numeric keypad, and backup manual key. Features a lid assist system to partially lift with the top lid when unlocked.
Responsive LED lighting makes it easy to navigate the capacitive keypad with quick taps. View the safe contents with an interior LED light. A status LED and battery indicator provide tamper warning and low battery indication. Powered by a 9V Alkaline battery that lasts up to 2 years (not included), and the safe features a built-in micro-USB port to provide backup power in the event of a battery failure. View the full line of Barikade safes.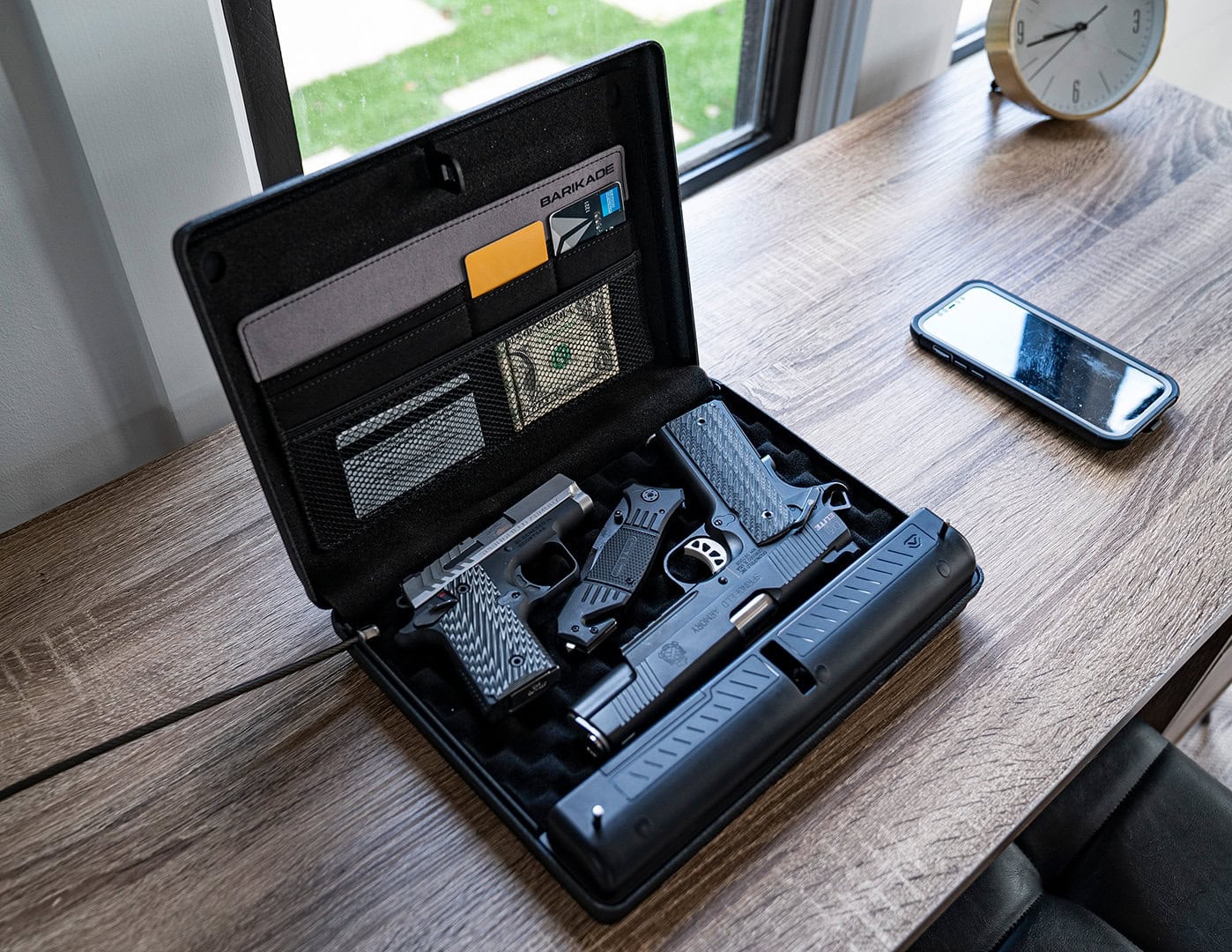 Entrusted to Build a Safer Tomorrow
We are Gearing up for a Powerful 2022!
Innovation. Safety. Security. Service.
Thank you for your for the business and support in 2021! It means a lot to us. We released numerous new products and we promise there is so much more to come. The journey awaits.