Another Year of Building Vaultek
Innovation. Safety. Security. Service.
Another Year of Building Vaultek
2022 was a massive year at Vaultek!
The year started with the launch of LifePod XT. The World's First All Weather Modular Case with Built-in Waterproof Biometric Lock. LifePod XT is the biggest LifePod capable of storing pistols, magazines, EDC, and more with the modular system.  On top of that release came additional excitement with LifePod becoming the first ever polymer case to pass California DOJ testing. A test designed for metal safes. A few additional launches later and we topped off 2022 with the largest launch ever! DS2i Smart Station the modern home centric smart safe. View some of the major launches below.
Thank you for making it our best year yet!
LifePod XT Launch
Reliable, Portable, Modular, Intelligently Designed.
Introducing the world's first biometric weatherproof firearm case. Modular Interior, High Capacity, and Quick Lock and Unlock. Building on the successful LifePod platform, LifePod XT boasts a built-in biometric scanner and Smart Sense™ digital keypad – all wrapped in a rugged, all weather, high impact T3™ Polymer housing with reinforced anti-theft features.
A Modular Masterpiece.
The modular systems allows for customization based on your setup with repositionable pistol racks and magazine racks that quickly and securely snap into place. Additional accessories include pluck foam, lid organizers, and a rigid molle board panel for greater customization of your gear. LifePod XT is available in (4) preset configurations including color options.
Nano Key 2.0 Biometric Launch
Immediate, Secure, Biometric Access
Open your Vaultek compatible safe with one simple touch with
Nano Key 2.0 Biometric
. Immediate, Secure, Biometric access using Vaultek's newest high resolution fingerprint scanner. 20 foot range (varies per model) creates a safe, designated access point to open the safe when nearby or walking up to the safe. Mount anywhere with the included mounting bracket with 3M mounting tape. Install in the home, office, and vehicles. Rechargeable battery lasts up to 3 months on a single charge, and features a low battery reminder to plug in when needed. Charging cable is included.
Convert Non-Biometric Safe to Biometric
Have a non-biometric safe no worries! If your safe is compatible with Nano Key 2.0 you can purchase an upgrade to convert your safe to biometric with the Nano Key 2.0 Biometric.
NVTi, WiFi Enabled VT Series Launch
Full-Size Capacity, WiFi Enabled, + Live Alerts
The long awaited WiFi version of VT Series was released. With WiFi connectivity you can view live safe data and receive instant alerts for safe events right to your phone. Be notified if the safe is tampered, opened, and more. Manage and monitor your safe remotely with the Vaultek WiFi app or exclusive online web dashboard. You can view the history log, power levels, name enrolled fingerprints, disable/enable fingerprints, adjust interior light, adjust the sound, and more from anywhere.
DS2i Smart Station Launch
Quick Access, Customizable Display, + Wireless Charging Pad
The ultimate modern home safe has arrived. Fully loaded with top of the line modern upgrades; top mounted wireless charging pad, USB/USB-C accessory charging ports, and a sleek customizable LED display. Combine these features with industry leading safe technology, Vaultek's signature fit and finish, and intelligent new design, the next generation smart safe is here. This is the Vaultek Smart Station.
Quick, secure access using the LED backlit HD fingerprint scanner, Smart Sense™ digital keypad, or Nano Key 2.0 (sold separately). Precision ball bearing twin rail system automatically deploys the safe open quickly with smooth and silent action. Built-in interior light illuminates the interior.
Next Generation Smart Safe
Modern upgrades with a top mounted wireless charging pad, USB/USB-C accessory charging ports, and a sleek customizable LED display showing time/temperature/humidity make the ultimate modern home safe. Low profile safe design blends into its environment, great for RVs or nightstands. The auto-open safe drawer can secure a full size pistol (up to 9″), jewelry, small documents, and other personal belongings.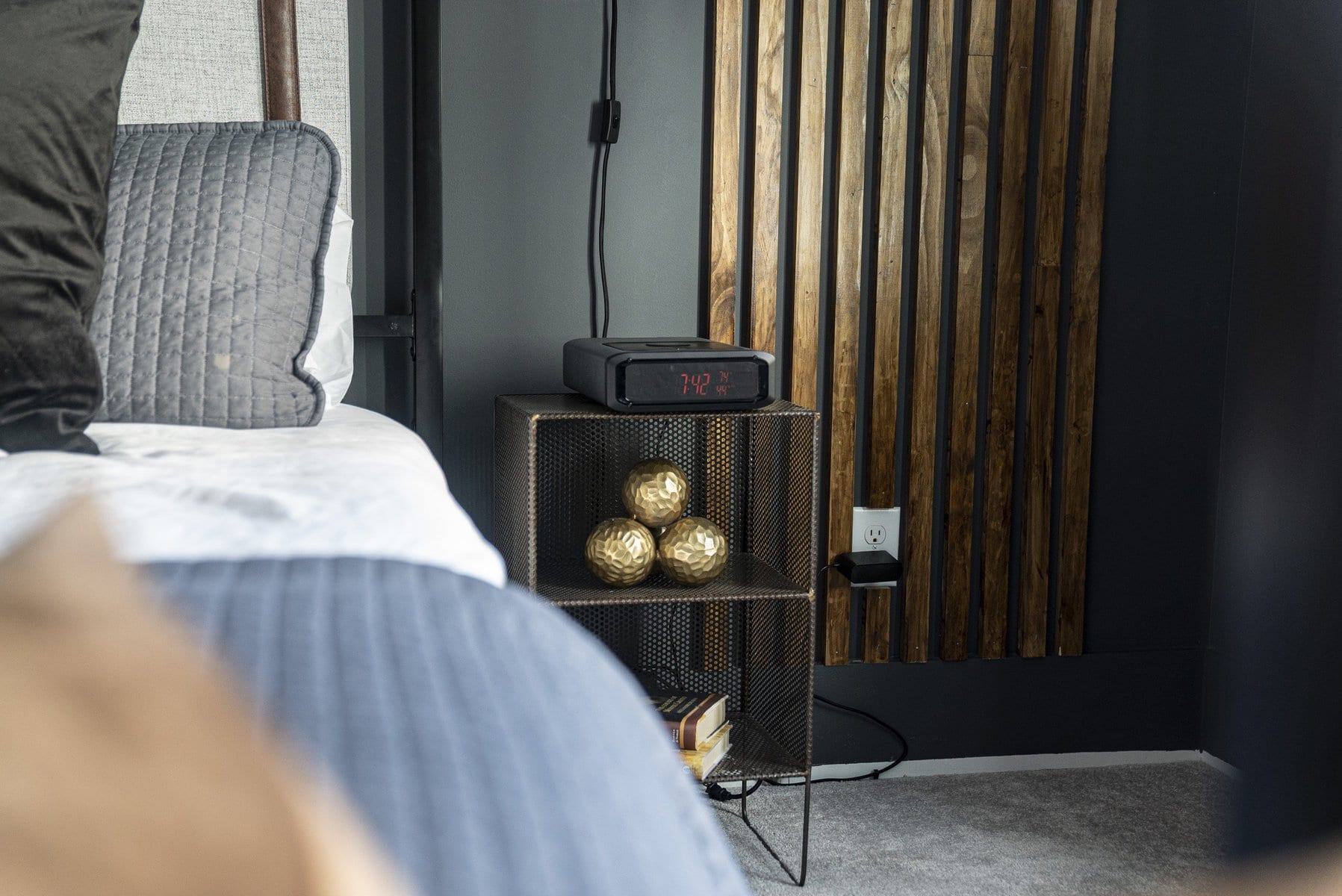 Perfect solution to your bedside safe needs. The Vaultek DS2i Smart Station has best in class technology packed in a sleek compact safe.
Entrusted to Build a Safer Tomorrow
We are Gearing up for a Powerful 2023!
Innovation. Safety. Security. Service.
Thank you for your for the business and support in 2022! It means a lot to us. This year we released numerous new products and we promise there is so much more to come. The journey continues!