Using the Built-in WiFi Diagnostic
Access the app's alternate connection method for a step by step overview of the connection process. You will see each step in detail and where the connection process is having trouble.  If you see any step turn RED, indicating a problem, view the charts the below for resolution tips.
To get started, press and hold "GET MY SAFE ONLINE" for 3 seconds and let go.
If your network credentials are not reaching the safe, it's likely app compatibility. See resolution below.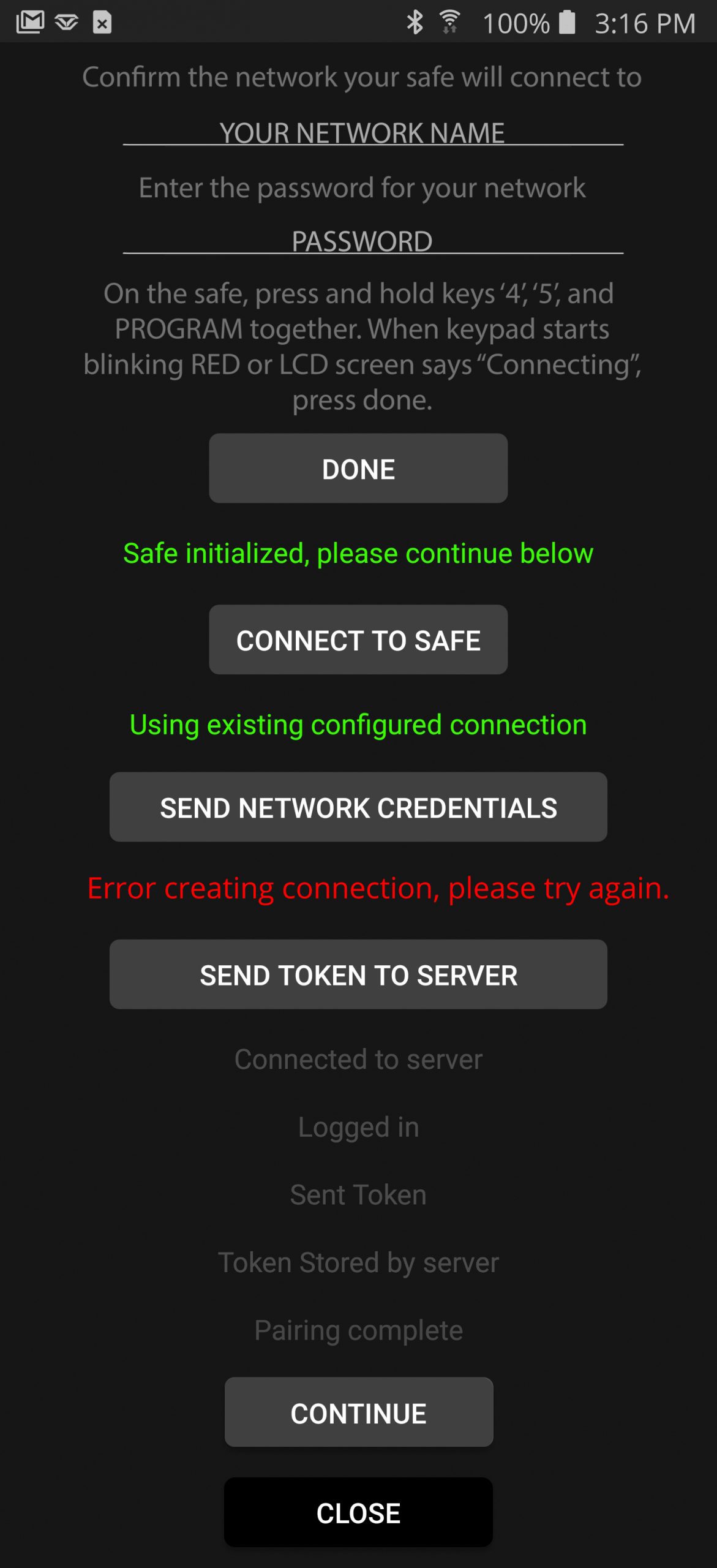 Resolution:
Disable your cell data by placing the phone into airplane mode and then turning the WiFi back on and try again. When safe is online you can turn your cell data back on.
Try a different brand phone from a friend or family member to get the safe online. If successful, your original phone can still be used to manage safe.
If you can not send the token to server, your phone may need more time to reconnect. See resolution below.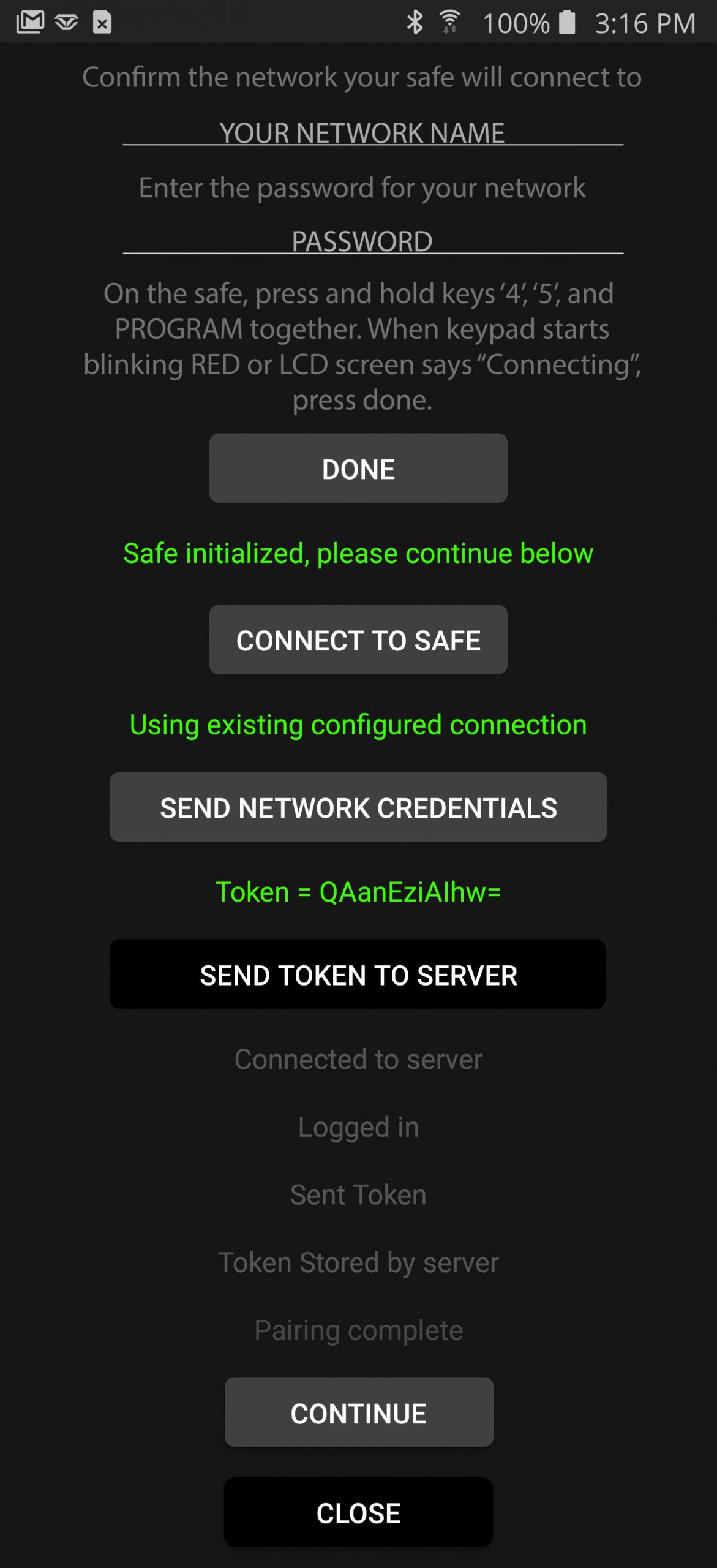 Resolution:
Wait a few seconds and press "Send Token to Server" again. Sometimes a slower connection is the cause and can be tried again.
If the pairing process can not complete, it's likely a network setting. See resolution below.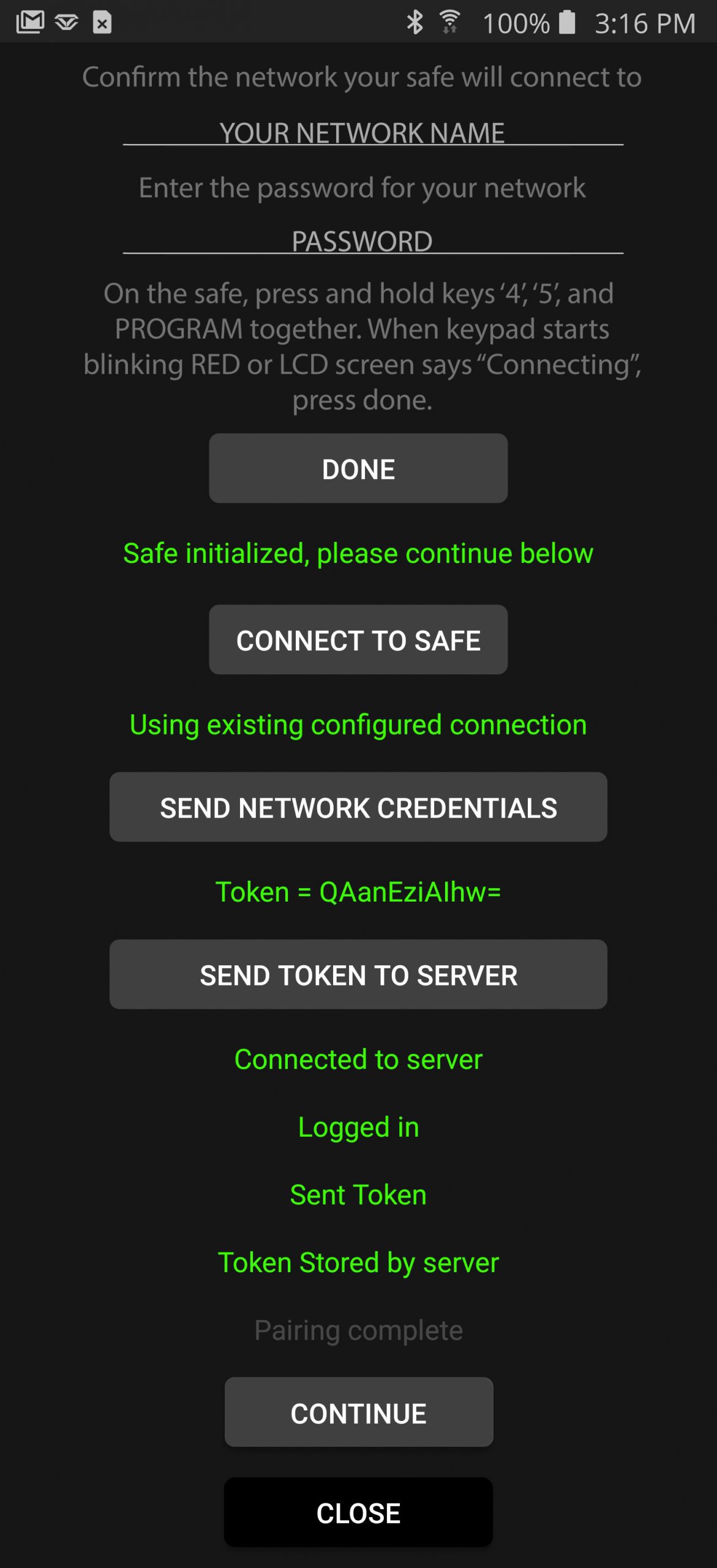 Resolution:
Check to make sure network name and password are entered correctly.
Check to see if proximity issue and try again with the safe closer to the router.
Check router settings and ensure password security is set to WPA/WPA2 and not WEP.
Custom configured networks can prevent safe from joining network, may require assistance with your internet provider.
Vaultek WiFi safes will only connect to 2.4 gHz networks.
Access points are not recommended. We suggest connecting your safe directly to a router using the Vaultek WiFi app or with the router's WPS button.
Once connected, view your safe's online dashboard at dashboard.vaulteksafe.com
Online tutorials are available at www.vaulteksafe.com/support for additional reference.
MAKE SURE TO USE Wi-Fi App
Vaultek has a Bluetooth and WiFi app, be sure to install the WiFi app. You will need to create a new account in the app even if you already have an account with the Vaultek online store. WiFi safes are managed separate from the online store and a new account must be created even if you are using the same email and password.
Download the app for free from your app store, and start with the option "Get My Safe Online". In a few simple steps the app will connect the safe to your network.
Your router's WPS button, sometimes referred to as a "Press to Connect" button, is the the fastest way to get your safe online.
1 First ready your router by pressing the WPS button.
2 Connect the safe using the correct key sequence for your model below.
Slider Series: Press and hold 3 + 5 + Program, until keypad starts blinking red.
MX Series: Press and hold 4 + 6 + Program button until the LCD screen shows connecting.
RS Series: Press and hold 4 + 6 + Program button until the LCD screen shows connecting.
3 Now that the safe is connected, use the Vaultek WiFi app to sync your phone with the safe. Use the option "Add a User" and follow the app's prompts.
4 You can also use the online dashboard to view and manage your safe, visit dashboard.vaulteksafe.com to create an account.
When your safe is unplugged and running on battery power, the safe will automatically enable Low Power Mode. This allows the safe to sleep and manage power efficiently allowing the safe to run on the battery alone up to 3+ months.
In Low Power Mode the safe will sleep when no activity is detected for a few seconds. The safe wakes up immediately if there is a low battery, door opened, proximity sensor turned on, oe if the keypad or fingerprint scanner touched.
When sleeping the app and online dashboard will display if the safe is using Low Power Mode and list the safe status as SLEEP. During this status, any setting adjustments from the app or online dashboard will not take affect until the next time the safe is awake.
To receive alerts when the safe is in Low Power Mode, an event must wake the safe. This allows the safe to send alerts for critical safe activity, and will send an alert based on your selected preferences.