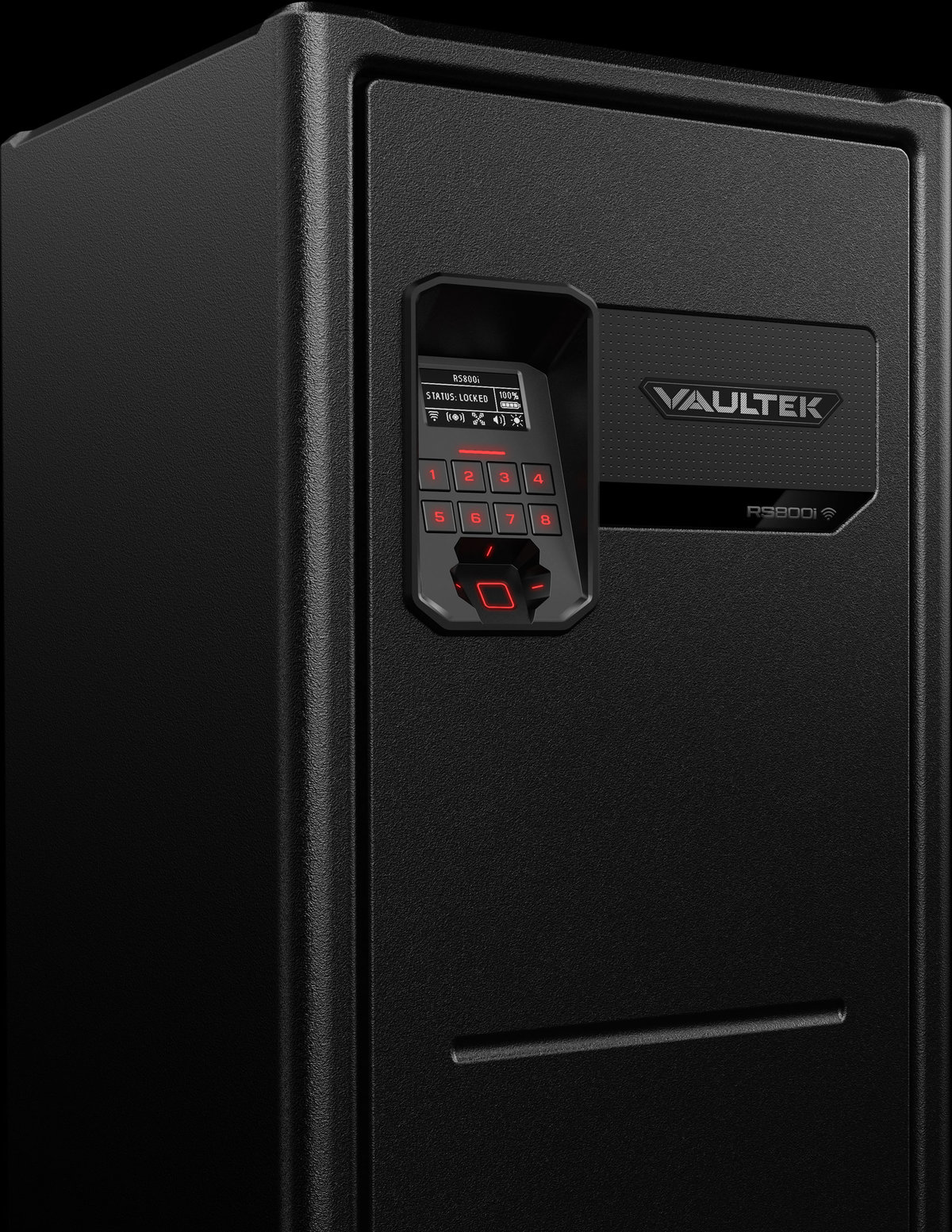 SMART MODULAR STORAGE
RS800i
Wi-Fi Enabled | Instant Alerts | Biometric | Modular Interior
Exterior: 54″ X 14″ X 16″ Interior: 53.25″ X 13.75″ X 12.6″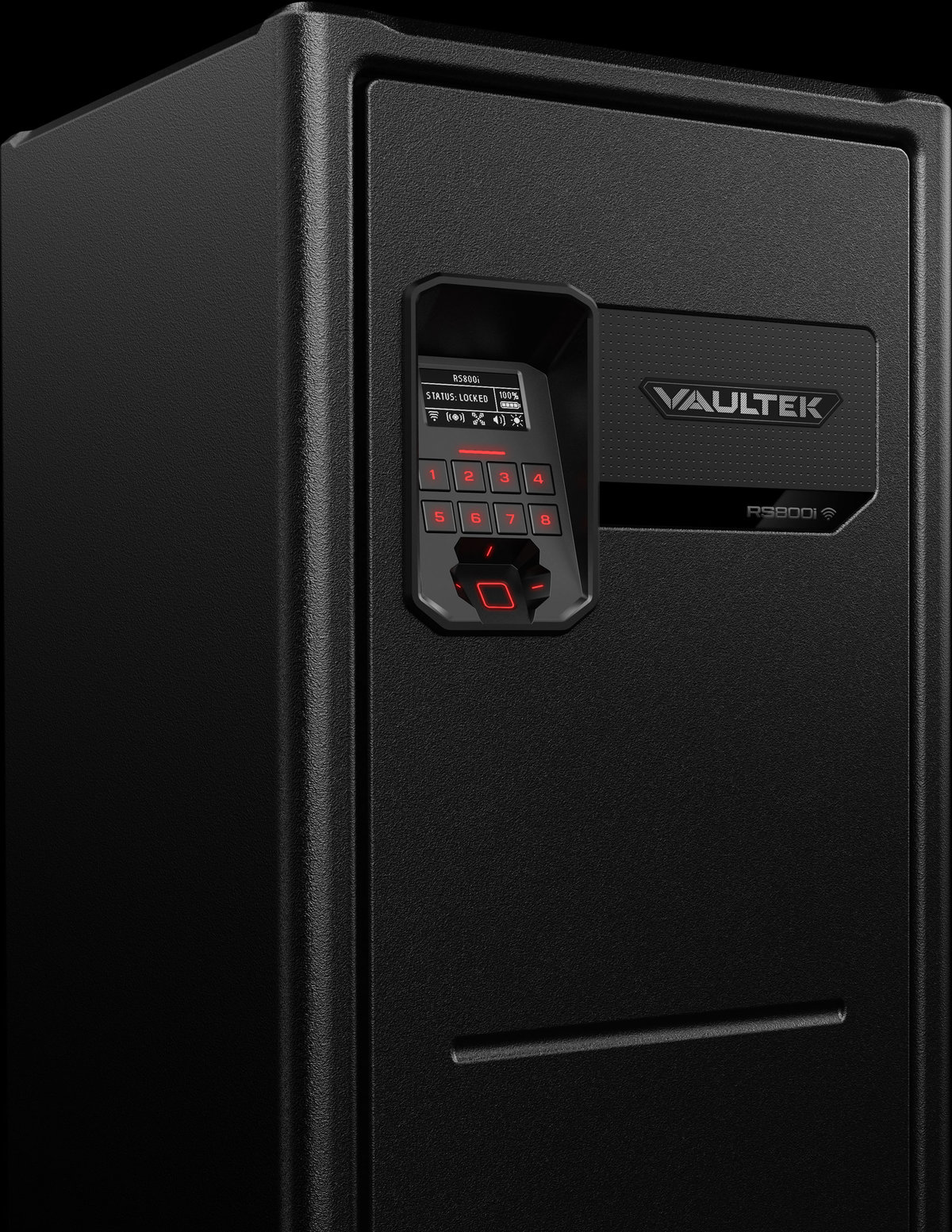 Wi-Fi Enabled + Live Alerts.
(8) Rifles + Pistol Combinations.
Welcome to the new frontier.
World class security + high end technology and performance.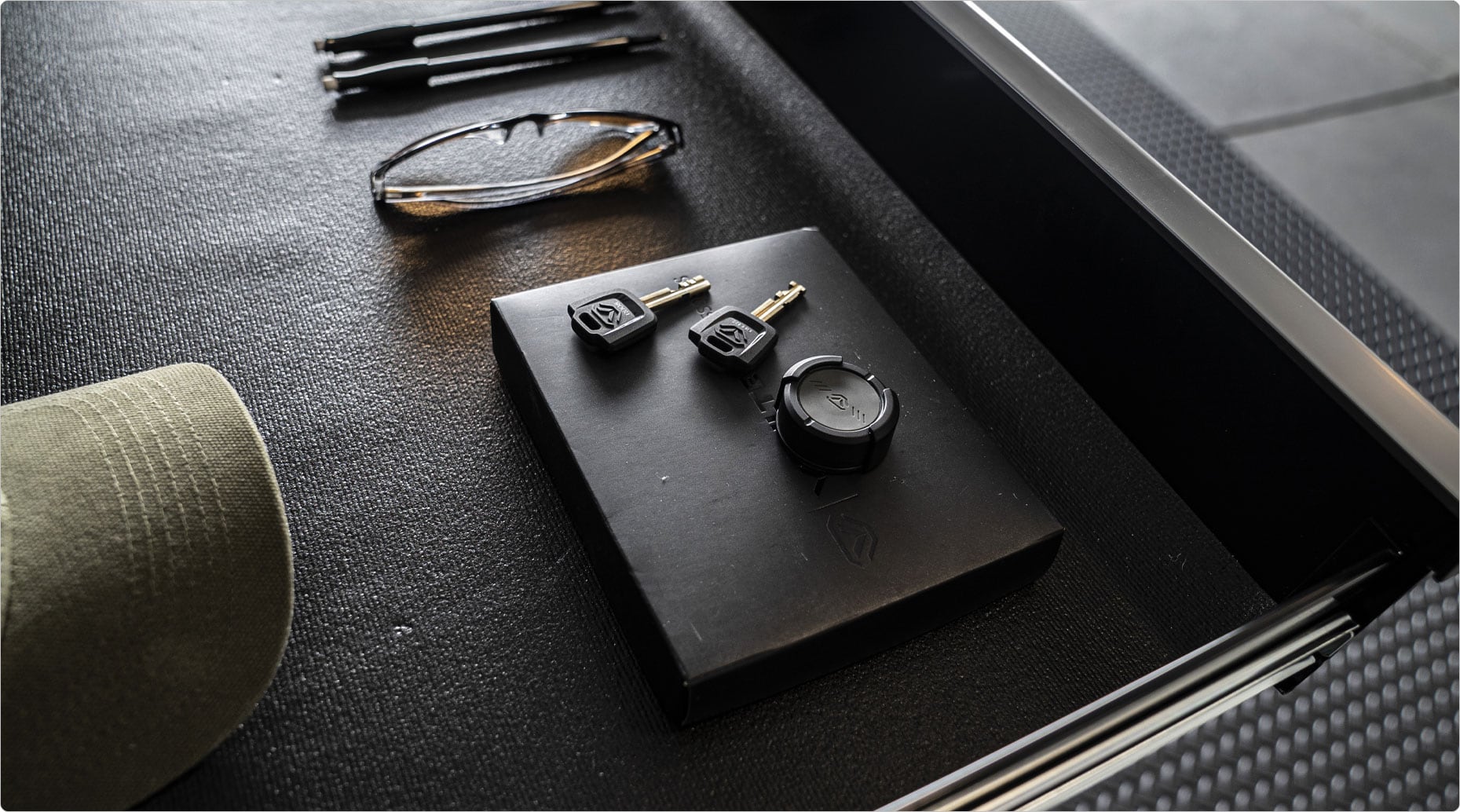 Premium Entry Methods: Biometric Scanner, Numeric Keypad, Backup Keys, + our signature Vaultek Smart Key Nano.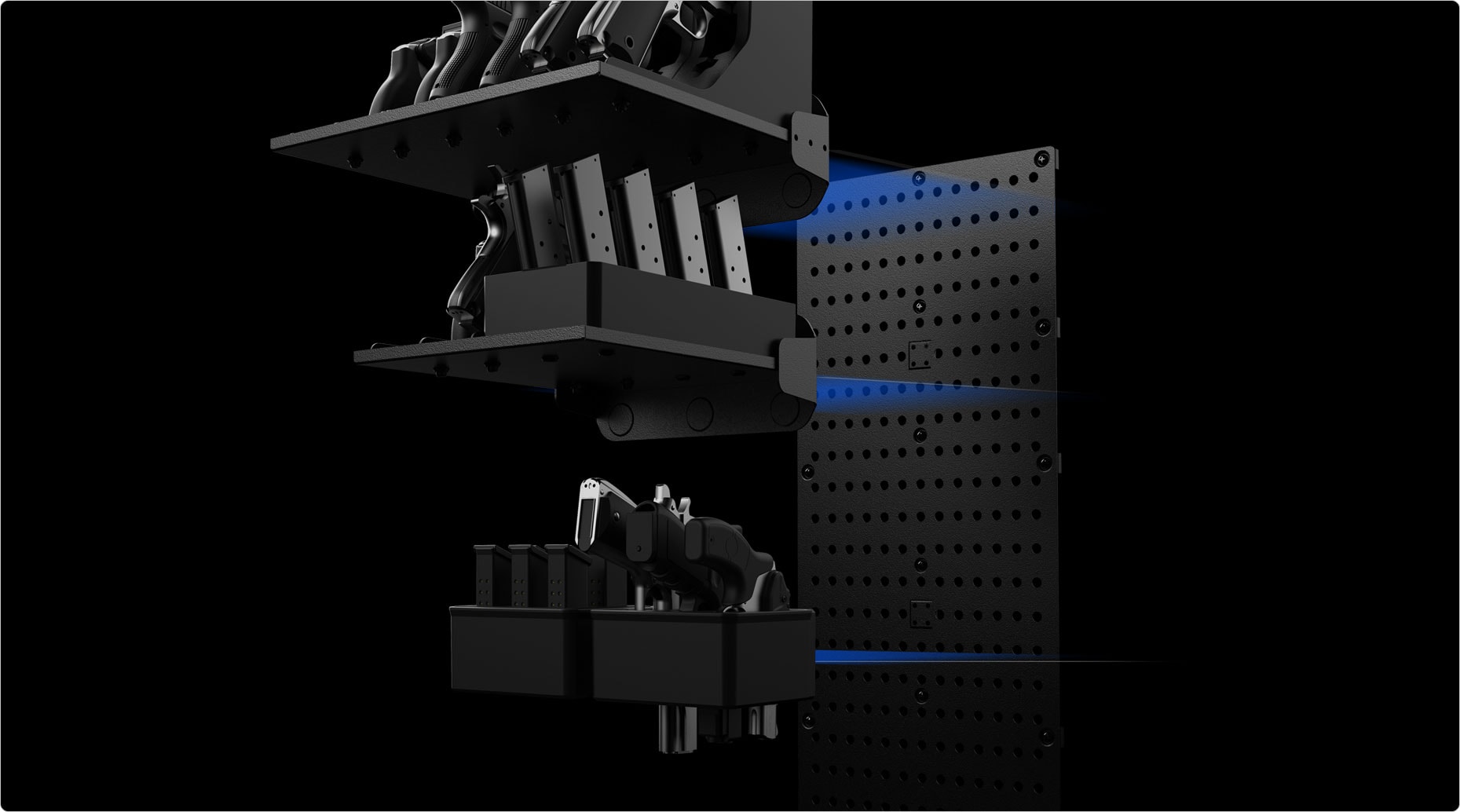 Custom build with total freedom.
Make it yours with RS accessories designed specifically for your RS800i.
Central control panel houses an LCD screen relaying critical safe information, biometric scanner, and LED numeric keypad.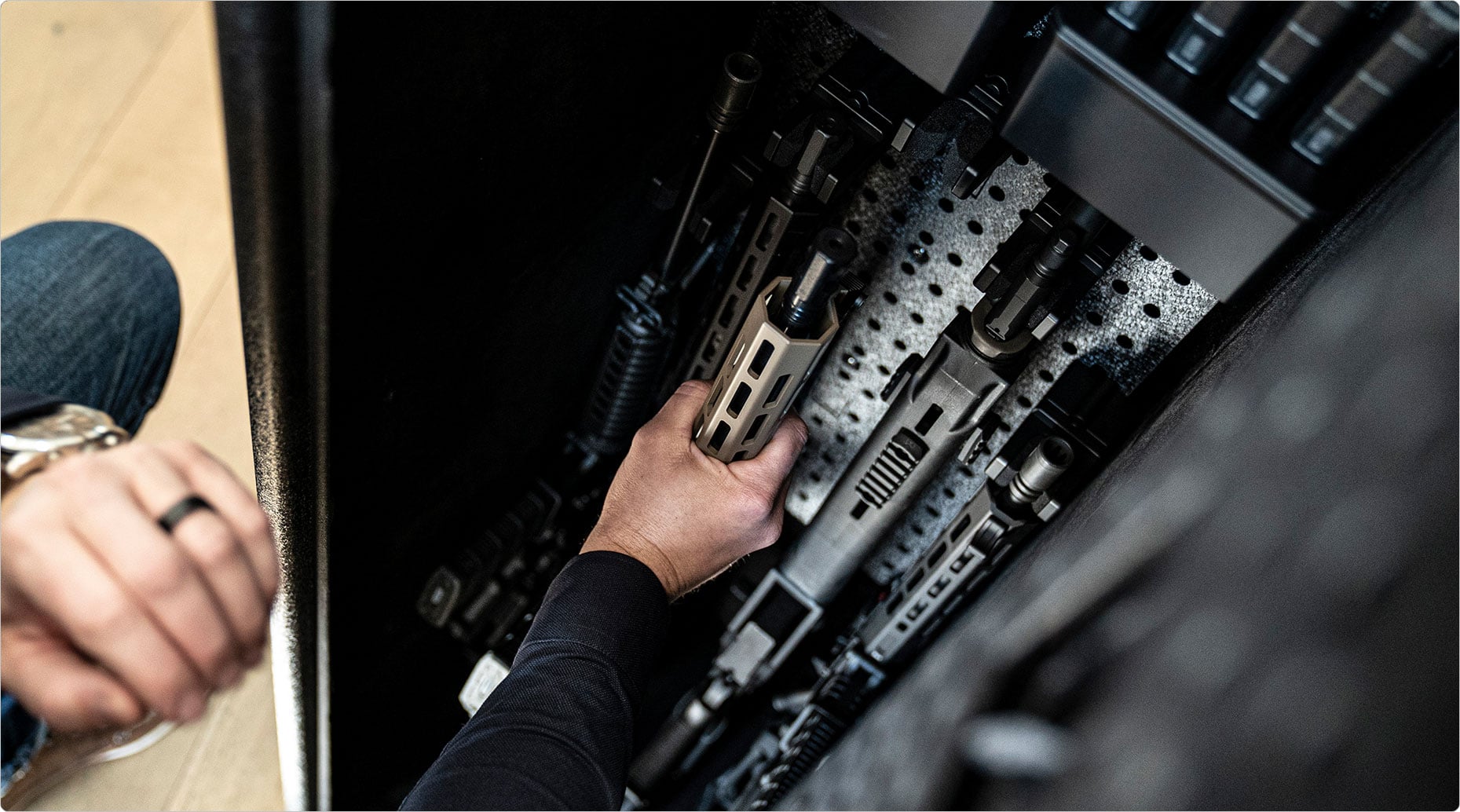 The added depth of the RS800i allows for you to fully equip your unit with up to 8 long guns and multiple pistols + Magazines.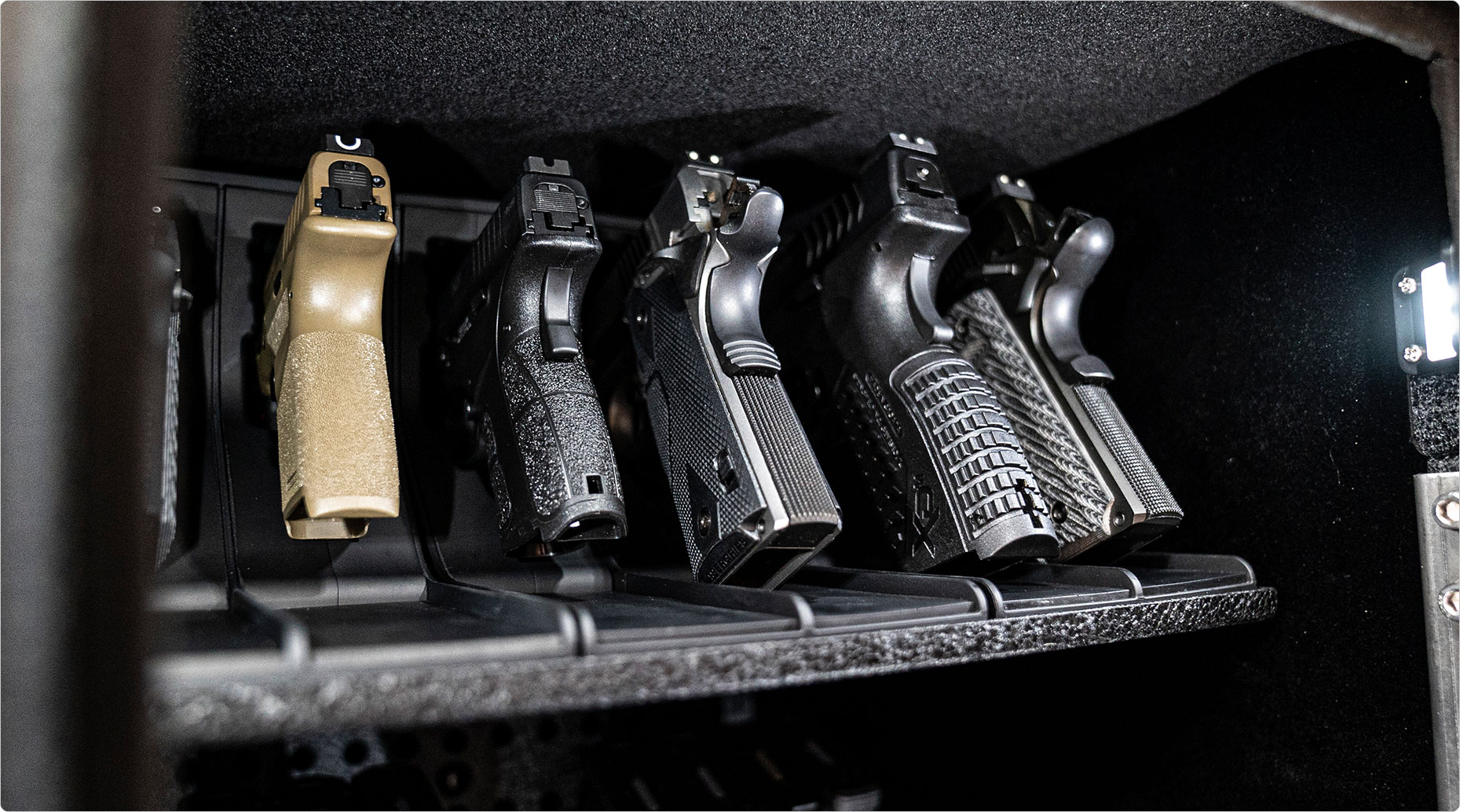 You can now store your AR with magazines fully attached, even on the included door peg board. For convenient access pistols can store straight in.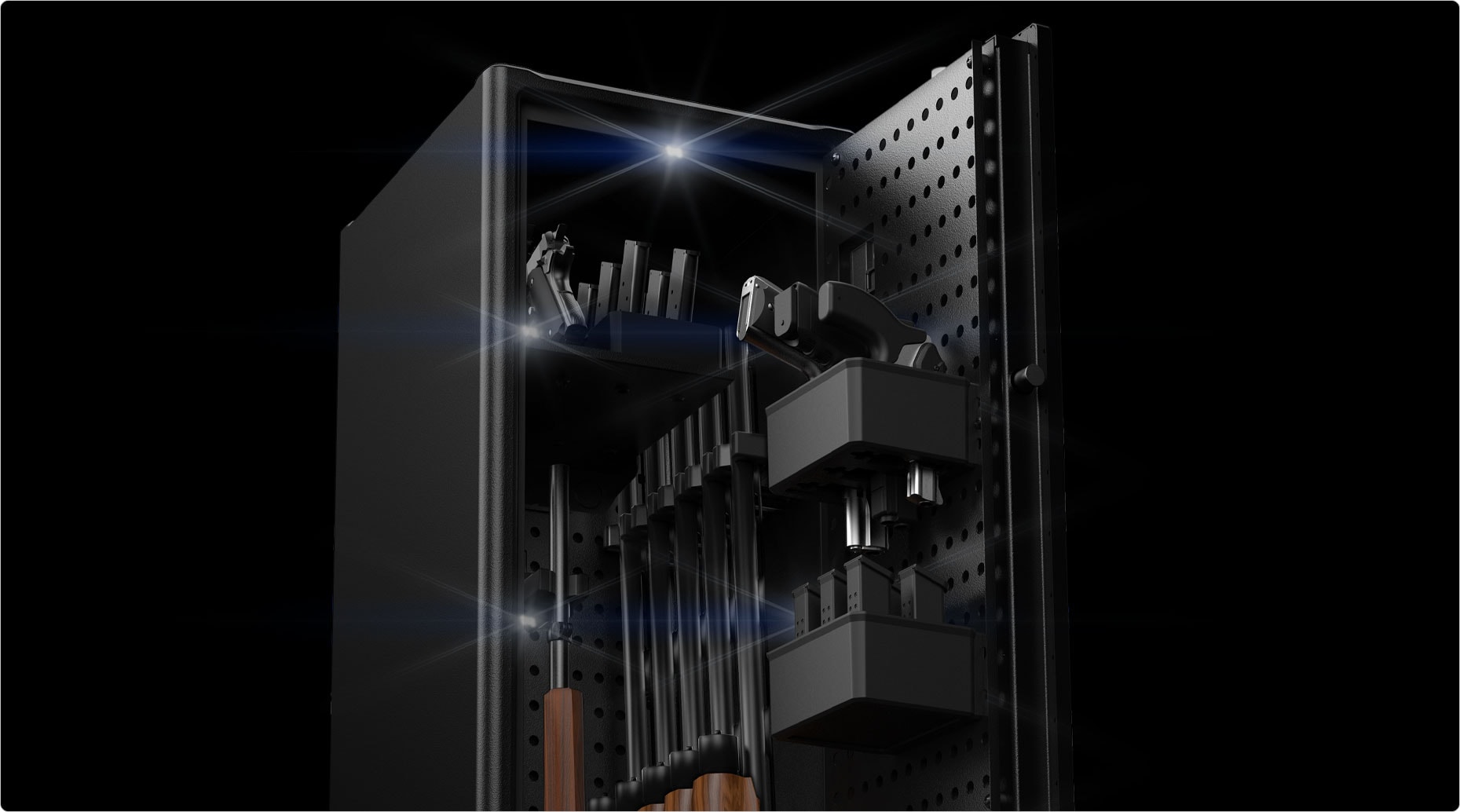 Easily view the contents of your safe with an enhanced LED lighting system, crafted for full illumination.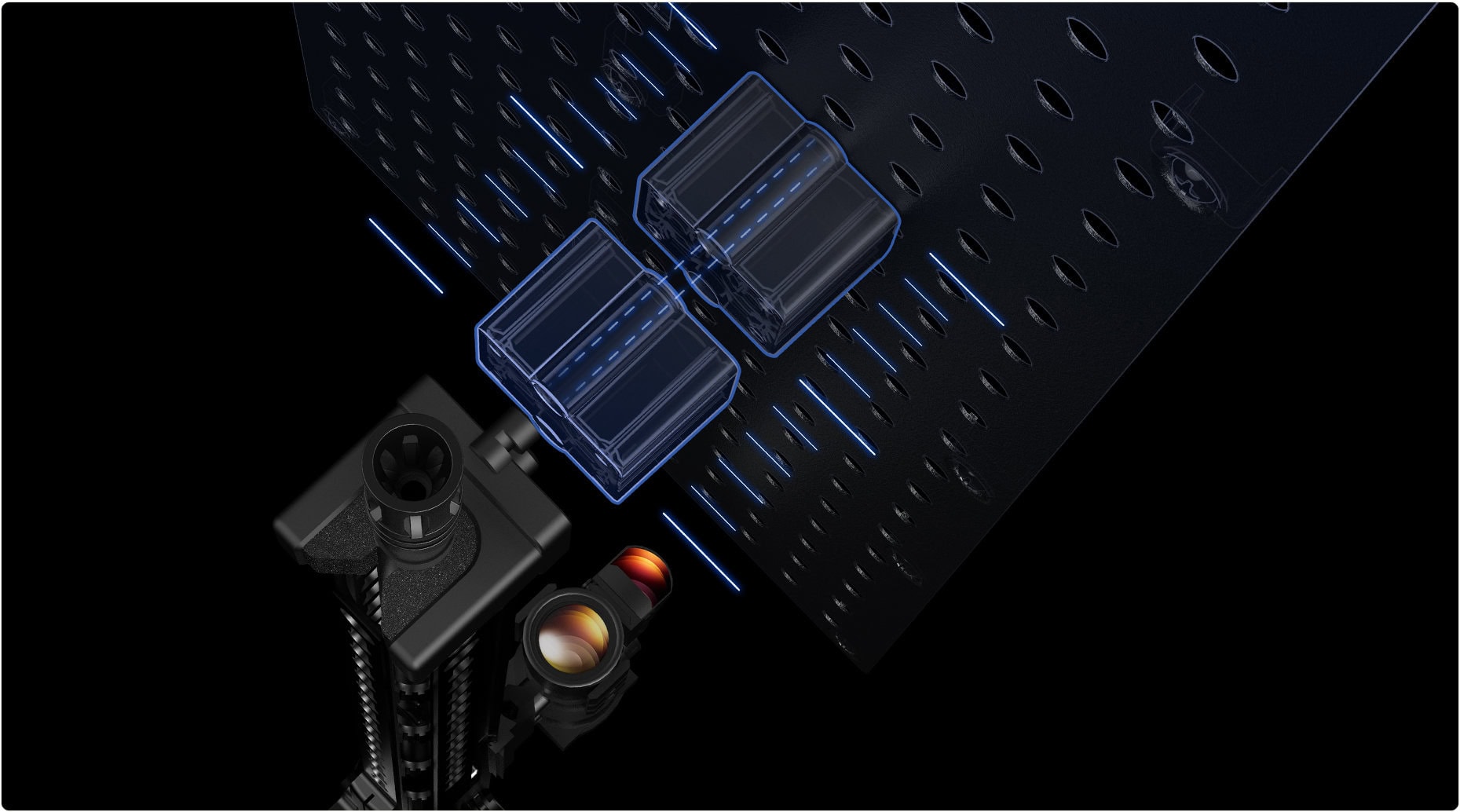 Clearance for Sights + Optics

Barrel Mount Extensions allow for storing rifles with sights or optics, just stack together to create clearance as needed.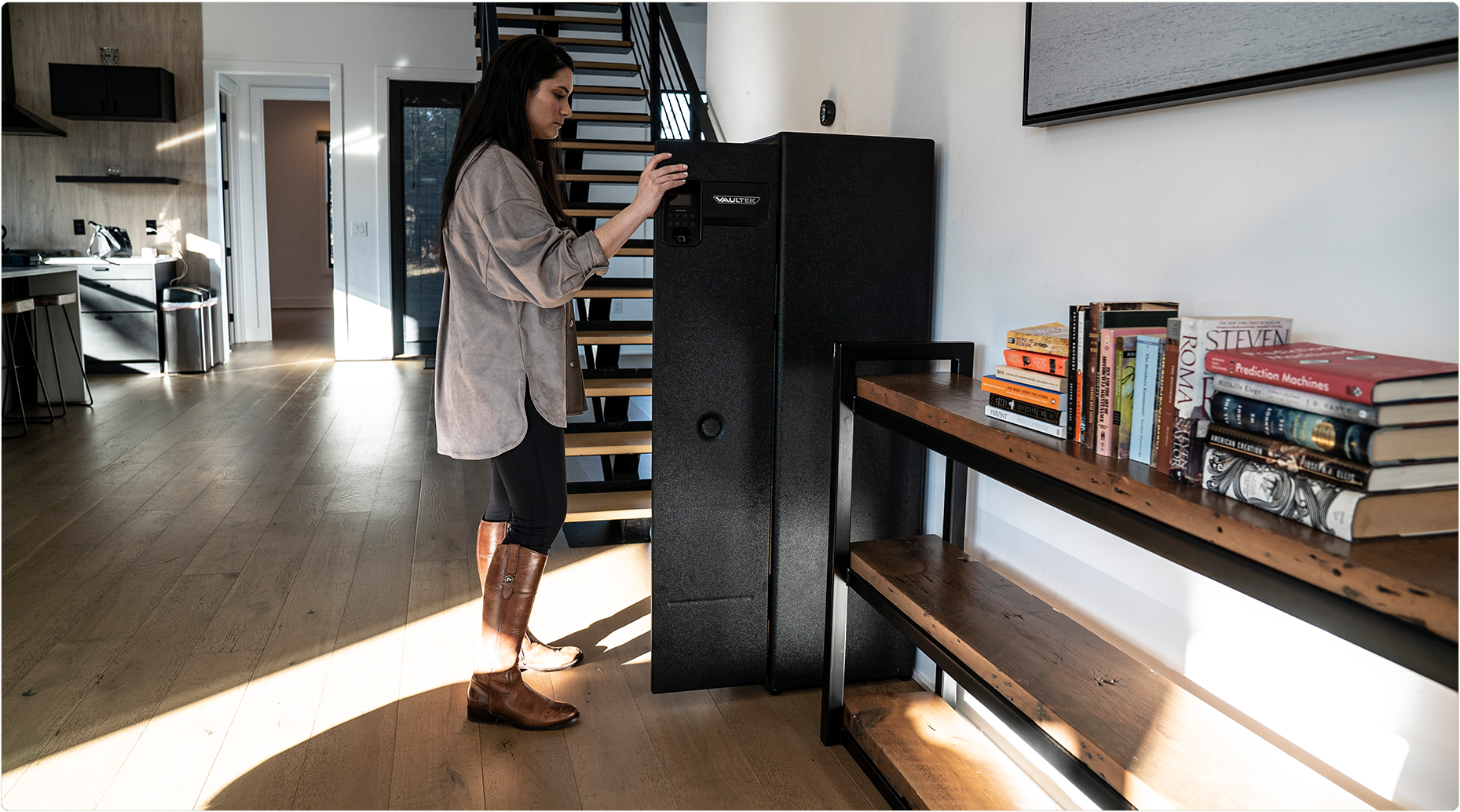 When access is granted the tuned spring door automatically opens.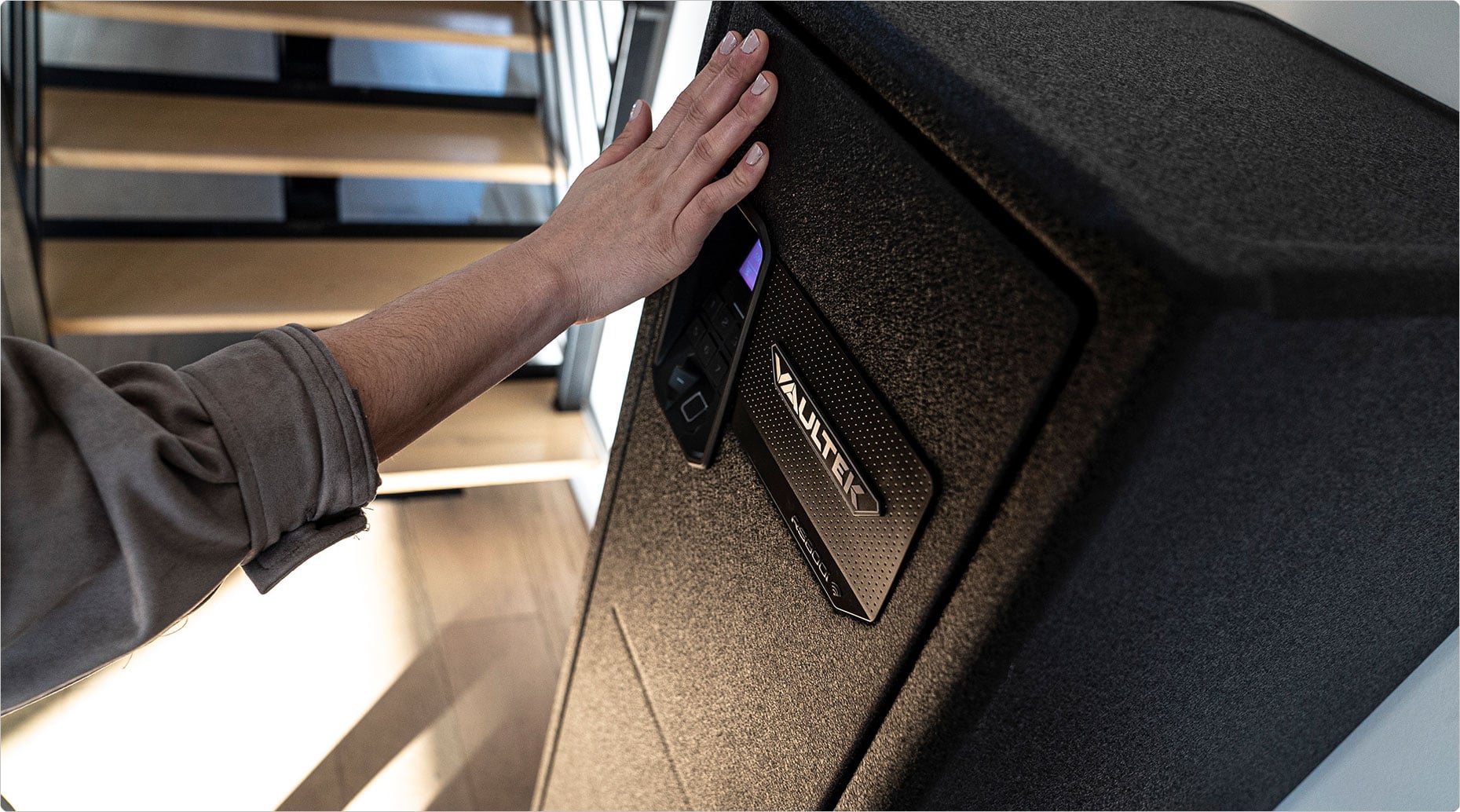 Rugged Steel Construction

Formed steel body uses Vaultek's signature metal forming techniques with anti-pry design features.
Receive Instant Alerts for Safe Activity, Tamper Detection, Humidity Detection, Power Levels, + More.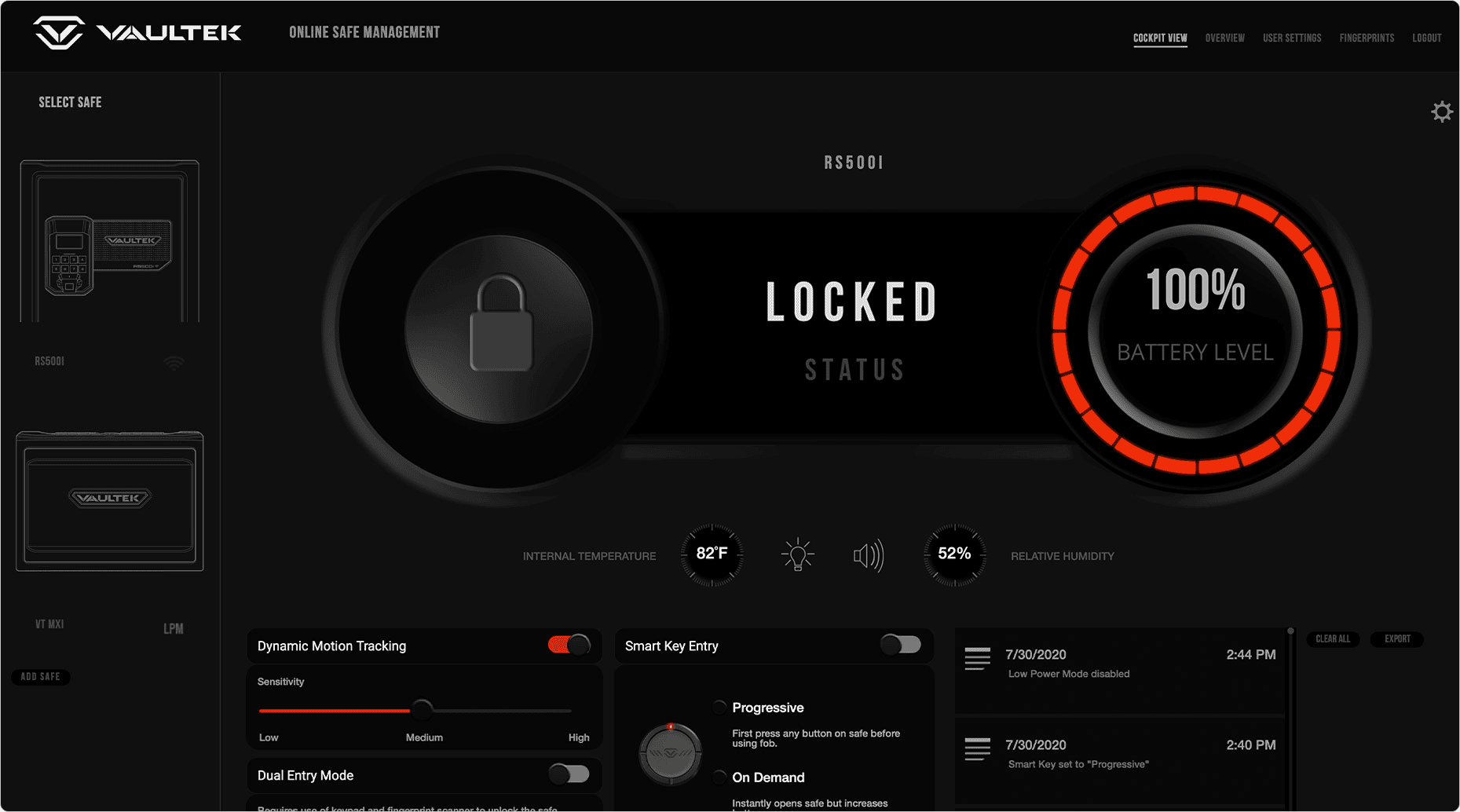 The online web dashboard provides a second vantage point to manage your safe and monitor live safe data.
A whole new depth.
RS800i expands capacity to create all new maxed out configurations.
Up to 8 long guns and multiple pistols + magazines.
Rifles with mags attached.
A master of storage allows for the best possible placement scenarios.
The RS800i can securely hold your AR with magazines attached.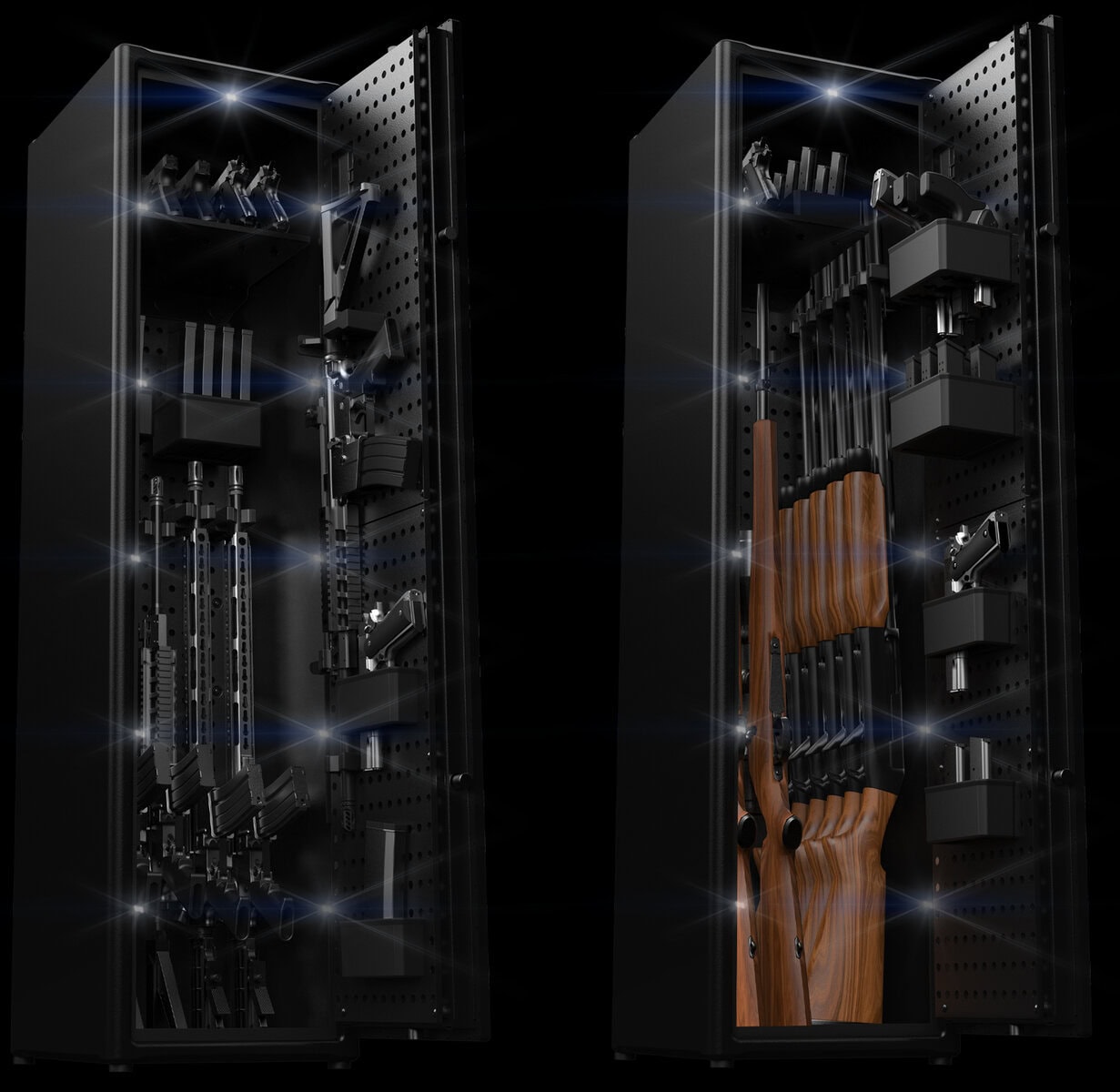 Every inch.
RS800i allows for back peg board storage, barrel mounts on the sidewalls, and front door peg board storage.
Our ever growing list of premium accessory modules mean you'll always be able to make it yours.
Front Door Mount included.
Upright Pistol Storage.
Make way for the fastest retrieval possible.
The enhanced LED interior activates 11 ultra bright LEDs. The moment the safe is opened the interior illuminates and
is in full view to easily access stored belongings.
Allows for immediate access with the press of a button.
Carry it discreetly, or hide as a panic button.
A full range of additional modules sold separately.

A wide variety of modular options allows advanced customization of your interior.
Available Manuals
The following digital product manuals are available for use.
RS800i >
Recieve Live Alerts + Manage your safe from App or Desktop Dashboard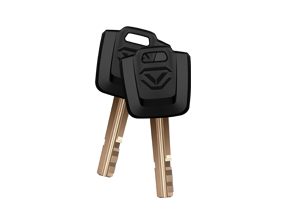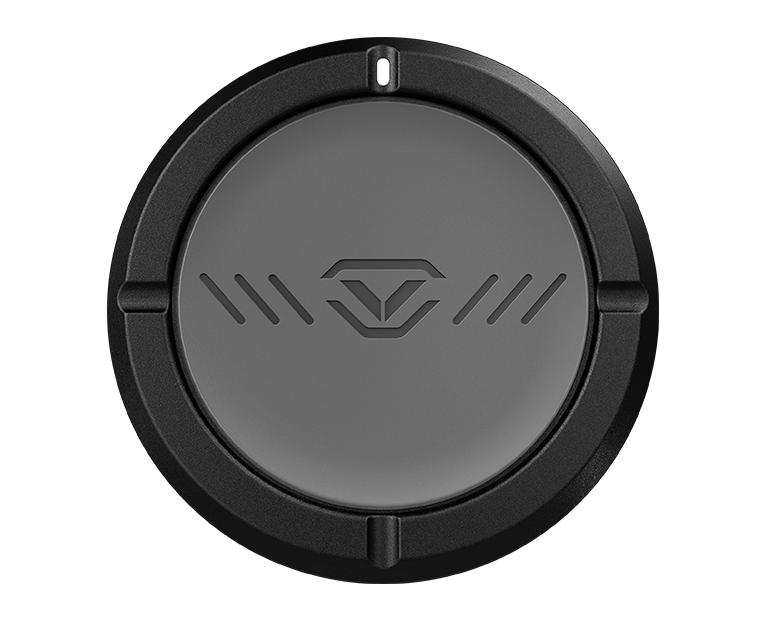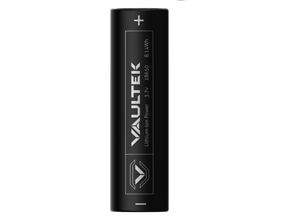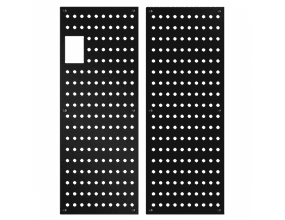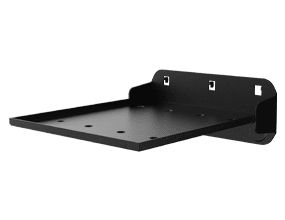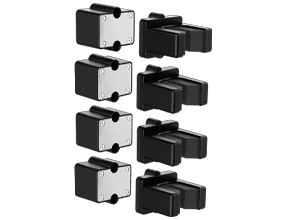 (4) Barrel Mounts + Adapters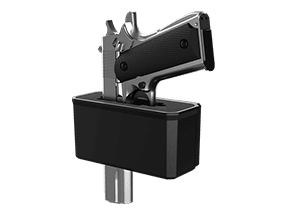 Single Pistol / AR Mag Holder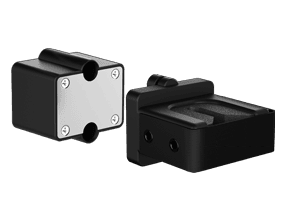 (1) Velcro Barrel Mount + Adapter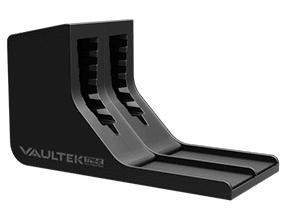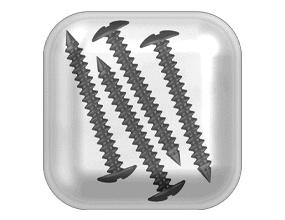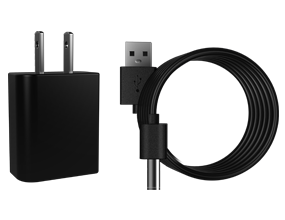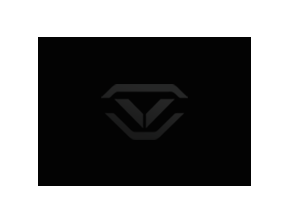 | Specification | Information |
| --- | --- |
| WiFi | Yes, 2.4 GHz network required |
| Backlit-Keypad | Backlit 8 digit keypad with built in proximity sensor |
| Battery Life | 3-4 months using Low Power Mode |
| Battery Type | 18650 Rechargeable Lithium-ion, 3.7v 2200 mAh |
| Biometric Imaging Speed | 10 FPS |
| Biometric Sensor Area | 12.8mm x 12.8mm |
| Biometric Sensor Pixels | 160 x 160 Pixels @508DPi |
| Biometric Storage Capacity | 20 Unique Fingerprints |
| Construction | Progressive Formed 14-Gauge Steel |
| Exterior Product Dimensions | 54" H x 14" W x 16" L |
| Interior Product Dimensions | 53.25" H x 13.75" W x 12.6" L |
| Lcd Screen Size | 50.0mm x 25.0mm |
| Pin Code Length | 4-8 Digits |
| Weight | 124lbs |